---
Julian Stadon / Roland van Dierendonck
THE RIVERBANK BUFFET
---
A Performative Riverbank Buffet and Workshop
Riverbank Buffet
Fr., 10. Sept, 18:30-20:30, STWST DeckDock
Riverbank Buffet Workshop: Islands of the Day Before Workshop
Sat., 11. Sept, 11:00 - 13:00, Meeting Point: STWST Entrance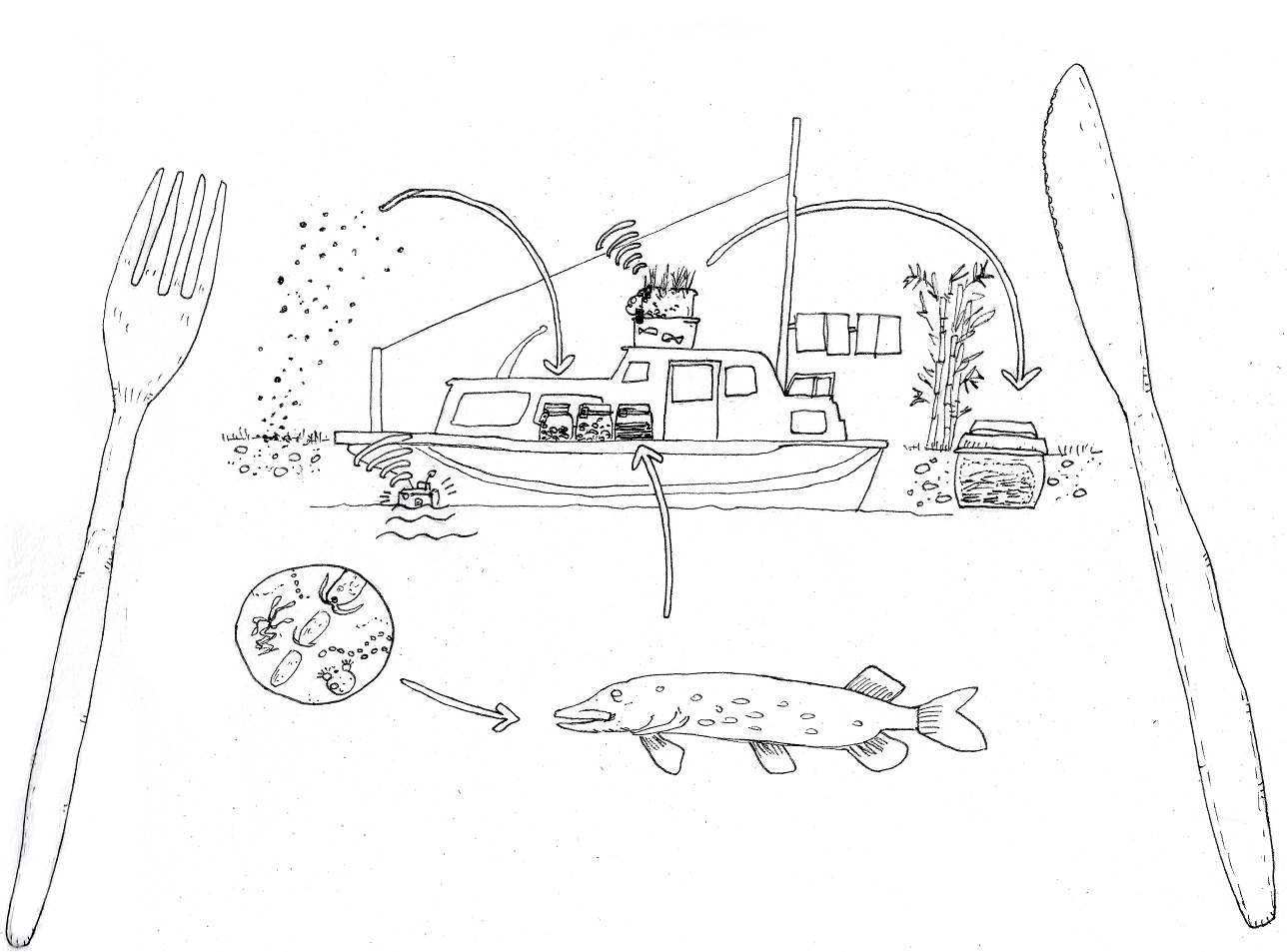 Riverbank Buffet uses public, artistic approaches to raise awareness of food and the environment, using the theme of microbiology as a catalyst for change.
Much like a buffet, this project brings together several different approaches to food production from around the world, into a single ecological palette for all to enjoy, using food that is grown exclusively along the Danube, using both traditional and modern methods that address issues of pollution, ecosystem recovery and health, through artistic analysis and experimentation with microbes.
The project presents an approach to public engagement in local urban ecologies, incorporating the idea of tiny tastings of food, science and ecological farming that all relate to this central idea of riverbank-based food, presented as a buffet style picnic that then continues as a workshop the following day. This collection of small art, science and culinary projects scale food ecologies from the microbial to the human world.
Presented as a dégustation menu, these 'tiny bites' will each consist of a small dish, a drink and an ecological artwork. The site of this project, Stadtwerkstatt Deckdock is a high-traffic area used for leisure and we aim to spread awareness through public, artistic approaches to food that use microbiology as a catalyst for change.




Julian Stadon / Roland van Dierendonck : This project builds upon previous collaborations between Julian and Roland at the WAAG BioHack Academy in The Netherlands and for the TeleAgriCulture project at Cultivamos Cultura in Portugal. As a resident of Linz, Julian has previously collaborated with Stadtwerkstatt on several projects involving networked technological approaches to interfacing agriculture, ecology, food production, and art. Roland, previously developed the Ecosystematic Lunch, an edible journey through food chains and while living in Norway, he has among other things, organized soil related workshops with the Norwegian Bio-Art Arena, using chromatography to assess soil health. In this project they bring a combined transdisciplinary expertise in using methods that bridge art, science and society, particularly with a focus on creating new forms of experience and communication.
https://vimeo.com/julianstadon
https://teleagriculture.org/
https://rolandvandierendonck.com/
Supported by the MakerXchange Project's Hyper Local/Hyper Local program/exchange.



Fb: @makersxchange.eu and @CreativeEuropeEU, Tw: @makersxchange, #CreativeEurope and @europe_creative, Insta: #CreativeEurope




DOCUMENTATION:

Text in Versorgerin 131: Soil II: Augmenting Ecological Aesthetics
Spoken Text on Radio Fro (Min 00:46:53 – 00:58:41): Julian Stadon: Augmenting Ecological Aesthetics