---
STWST No Content Dptm.
THE ELECTROMAGNETIC MASSAGE
---
Images without surface
Maindeck Installation: Continuous
Year-round project, daily image transmission: 16.00 -17.00
Additional image transmission during STWST48: Sat, 11. Sept: 22.30, 00.30, 02.30, 04.30 (Saturday Night)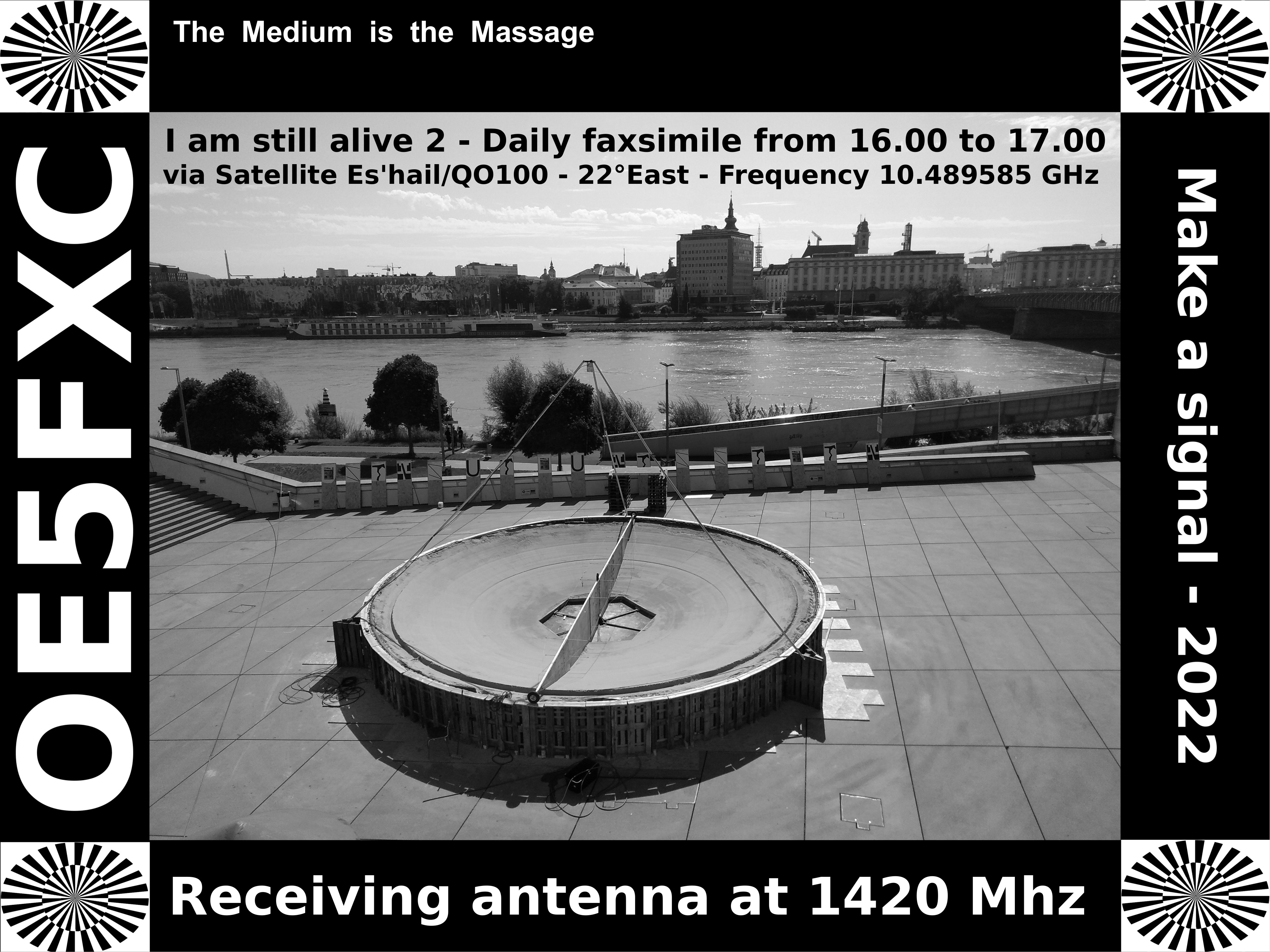 We dematerialise images and send them per electromagnetic waves to the ether.


In the Grid Museum's open system, images hang neither higher nor lower, but it is about the dissolution of spaces as they were. A permeable space plays on the unlimited electromagnetic space with a dissolved image gallery. Here, in the space without walls and floors, a different transfer of images and information takes place via radio waves into the electromagnetic space on a DIY basis. A collection of images moves through the open and boundless space: because radio waves penetrate walls, overcome borders, spread out into space. We thus use non-protocol parallel communication structures and information systems. And we understand this as an artistic and political act and as a reference to a new digital intellect that has to set its reference points as far outside as possible.
-
The images are transmitted per QO100 Narrowband WebSDR, using Es'Hail QO100 satellite. We send in the 180 year old fax format, which is still used by news and weather services. The callsign of the artist is OE5FXC.
On Saturday Nights we are transmitting. We are sending and recieving live at the Maindeck in front of STWST. It is a visually and acoustic transmission process: You can see and hear the transmission there. But if you want to watch for yourself, go to

https://eshail.batc.org.uk/nb/

and 10489.585 kHZ.
Beneath this network interface we will also install a downlink-antenna on the Maindeck, to be independent from the net. The downlink-antenna is directly recieving the transmission from the Es'Hail QO100 satellite. You can only hear the transmission.
Back to the images we are sending: The first image we send into electromagnetic space shows a project where an antenna receives hydrogen radiation from the universe. Another is about measuring sleep and thematising deeper resources. According to Marshall McLuhan, the space becomes the medium and with it the massage, and image content becomes incidental.
You can see the transfer and retransfer of the radio waves to an image live at STWST: Via satellite receivers and network interfaces. But if you want to try the retrieve by network interface for yourself, look for an App, which is able to do that.
A camper will also drive up on the Maindeck:

The project is supported with technical infrastructure, content and mediation by the

Media Camper

of Karel Dudesek and Marcus Kabele.
-
The work was shown in the summer of 2021 at electropixel 11 at Plateforme Intermédia in Nantes/F, as part of the STWST and APO33 Exchanges.




STWST No Content Dptm. is Franz Xaver plus STWST for this project, featuring the Media Camper of Karel Dudesek and Marcus Kabele. The work is directly related to STWST Infolab and Donautics. The image content is subordinate, but comes from STWST theory and research Infolab, Quasikunst and the No Content Dptm.




DOCUMENTATION: